The Kumamoto - Summary [OLD]
---
I felt we needed a new summary, since the old one is... well... old...

The Kumamoto - Summary
Welcome to the Kumamoto Family. We are the fastest growing pre-game family, and hope to continue growing after the game is completed.

We plan on being a family more focused on economy and sophistication, rather than just plain old warfare. Warfare isn't ruled out though, but used in moderation. Farmers, merchants, fishermen, and many others are accepted into our clan. Excellence in trade(s) of choice is mandatory.

__________________________________________________ ________________

Warfare for Defense, Diplomacy for Expansion
To compare our strategy for warfare to Real Time Strategy game jargon, "turtles" would be the correct word. Focusing on building an elaborate defense, instead of conquering everyone around us. This allows us to build a steady economy, and allows members who enjoy less hectic trades to do so in peace.

For expanding our territory, diplomacy is our route of choice. Offering villages benefits for joining us, keeping friendly relations with surrounding territories. Expanding in this way, lessens the amount of hard feelings against us.

Family Structure
In order to achieve and maintain stability throughout our lands, we need a well thought out structure and hierarchy. We will have various chairmen/chairwomen of our various branches; such branches will include, Agriculture Branch, Trade Branch, Judicial Branch, Diplomatic Branch, Warrior Branch, Intelligence Branch, and Public Needs Branch.

Relations with other Pre-game Families
We are allied with the Ikko family, who are more centered on warfare and espionage. The Ikko has long held the title for the most members, and has the potential to be extremely powerful in-game.

We have yet to form negative relations with any of the other pre-game families, and we hope for this to continue well into the actual game.
__________________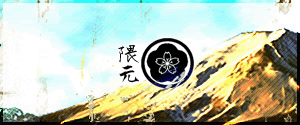 Kumamoto Leader \ Former Meitochi.com Owner
Forum Moderator \ Tatsumaki Anime Director
Go:
Kumamoto Clan
|
Info & Joining Kumamoto